My sister called me today asking me if i knew how to make a witch hat as she and my other sisters and mother are going to
Witch A Palooza
at Gardner Village in Salt Lake City, Utah. It is a fun experience to get the ladies together, let your inner witch out for the night, watch great dinner theater (This year will be Taming of the Brew), and admire some amazing Halloween Decorations.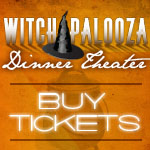 Many of the women wear impressive witch hats that you can purchase for about $40-80, but I say why pay when you can create on your own brilliant witch hat.
I went to pinterest and the web for inspiration
Here is what I suggest you purchase to make a great witch hat
Hit up your dollar store or Michaels or Hobby Lobby (don't forget the 40% off coupon)
-basic black witch hat (or another color if you like)
-tulle (orange, purple, green, black)
-feathers (I like the black feathers personally)
-ribbon
- plastic spiders
-wire (black if you can find it)
-anything else you can think of (spider webs, toy bats, etc.)
Get out your glue gun or super glue and get a creating. You have to remember to keep the thing light so don't load that sucker up with pumpkins or heavy spiders. The wire is incredibly important to wrap around the inside of the top to make it stick straight up or curl around like so
For a cute idea if you aren't a hat wearer I found this on the great and talented Martha Stewart website, a Bat Headband. Directions can be found
here
.
Maybe if I am feeling extra creative I will rig one up for you guys to see how I did it.